Love Delhi Gin reflects the essence of Indian cultures and flavours. Developed to compliment gourmet Indian food, the founders recommend pairing a Love Delhi G&T with these traditional recipes for a truly unique gin experience.
Tandoori Chicken brings back wonderful childhood memories and was often made as a starter at family gatherings. Enjoy classic tandoori chicken (marinade is same for both) or add into a gravy for a mouthwatering curry.
Ingredients
for the marinade
450g boneless chicken or 600g bone in chicken – we always do bone in, honestly I think it adds way more flavour and is a must in our house.

1tbspn Tandoori Masala 

1/2tbspn dried fenugreek leaves

1tsp Chilli powder (adjust to taste)- I never add less but that's because I'm all about the spice.

1tsp coriander powder 

1/2 tsp ground cumin 

1/2 tsp salt 

1 tbspn ginger & garlic paste 

2 tbspn yoghurt 

Juice of 1/2 lemon 
Ingredients
for the gravy
Oil

Cumin seeds

1 bay leaf 

1 onion diced

salt to taste 

1/3 tinned tomato (pureed) 

Chopped Green Chillis (I used 3) 

Leftover marinade mixture

150ml boiled water 
Method
Tandoori Chicken 
Mix all marinade ingredients add to the chicken. Cover and refrigerate for at least 6 hours preferably overnight. **TIP**- do it over night honestly I promise you will be able to tell the difference…the flavour is just incredible. 
Shake off excess marinade (and set to one side…you'll use this later) then Pan fry / oven cook / Grill the chicken – I tend to pan fry at this point but whatever your preference is.
For the Gravy 
In a pan heat oil on a medium-high heat add bayleaf & cumin seeds fry for minute then add diced onions & salt cook until they begin to brown at the edges. 
Turn the heat down to medium and add the pureed tomatoes cook this for 3-4 minutes. 
Add the leftover marinade a told you to set aside earlier and 150ml of water to the pan. Cook for 5 minutes then add the cooked chicken stir and  cover for 5 minutes. 
Garnish with chopped coriander.  
I promise this will not disappoint – let me know how you all get on!
Dee xx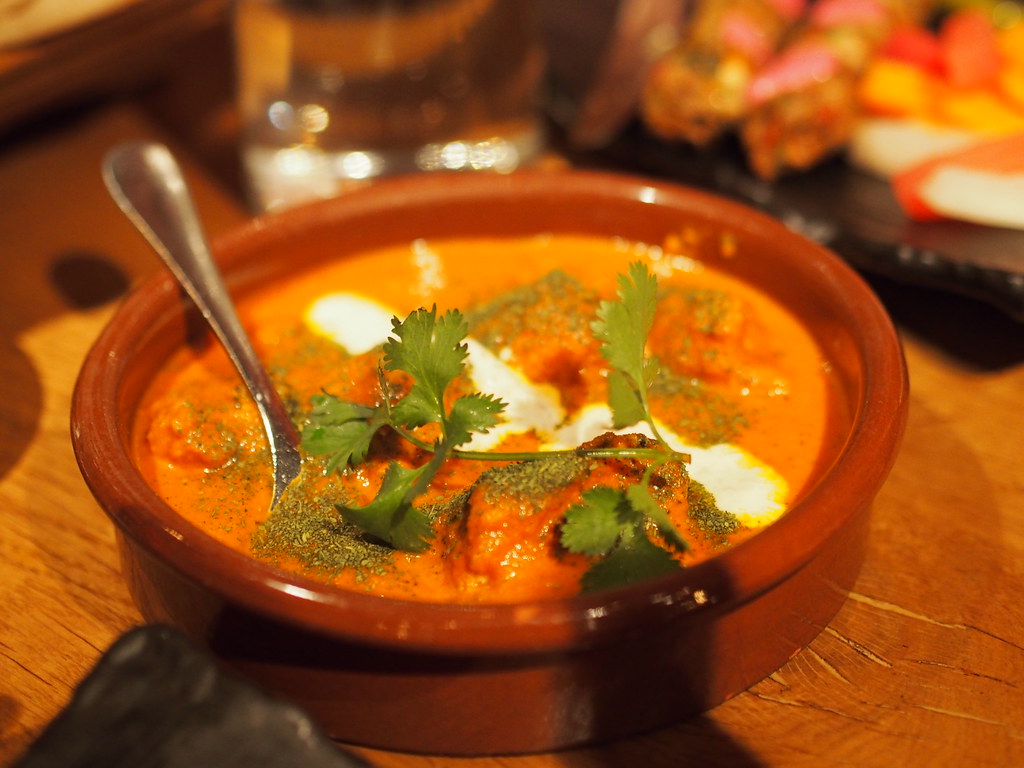 Murgh Makhani (Butter Chicken)
Butter Chicken is one of India's best-known dishes, popular around the world. This Indian favourite uses tender yoghurt-marinated chicken, with a rich tomato-based sauce, and goes perfectly with a Love Delhi G&T. Serves 2 – Cooking time – 55 minutes
Ingredients
5 large cloves of garlic, peeled

30g fresh ginger, peeled and sliced

450g boneless chicken thighs, skin removed

1/3 cup plain yoghurt

1 tbsp vegetable oil

1 tsp salt

1 tsp garam masala

¼ tsp saffron

600g whole stewed tomatoes

2 tbsp tomato paste

3 tbsp unsalted butter

6 pods green cardamom

1 pod black cardamom

1 cinnamon stick

4 cloves

1 tsp fenugreek seeds

2 fresh chili peppers

¼ cup cashew nuts

1 tsp gasuri methi (dried fenugreek leaves)

1/3 cup heavy cream

Salt to taste
Method
Puree the ginger, garlic and some water in a food processor (or grate by hand).
Whisk 2 tsp of the garlic ginger mixture in a small bowl with the yoghurt, vegetable oil, salt, garam masala and saffron (save the remaining garlic ginger mixture for later).
Marinate the chicken in this mixture in a large freezer bag (sealed tightly) and marinate for at least 4 hours.
For the sauce, puree the tomatoes and tomato paste in a food processor.
Fry the butter, green and black cardamom pods, cinnamon and cloves until the cloves are puffy. Add the fenugreek seeds, chilli peppers and the remaining garlic ginger mixture, sautéing until browned and fragrant.
Add the pureed tomato mixture and cook over medium heat until thick – around 45 minutes, stirring regularly to reduce the liquid.
While the sauce is reducing, grill the chicken on a high heat until the outside is lightly charred, but it is not fully cooked. Rest for 10 minutes.
Blend the raw cashew nuts with 2 cups of water in a food processor until smooth and add to the reduced tomato mixture, whisking off the heat. Strain the sauce.
Cut the rested chicken and add to the sauce, along with fenugreek leaves, garam masala and salt to taste. Cook for 6-8 minutes over medium heat until chicken is cooked through and stir in cream.
Plate and drizzle extra cream on top. Garnish with coriander.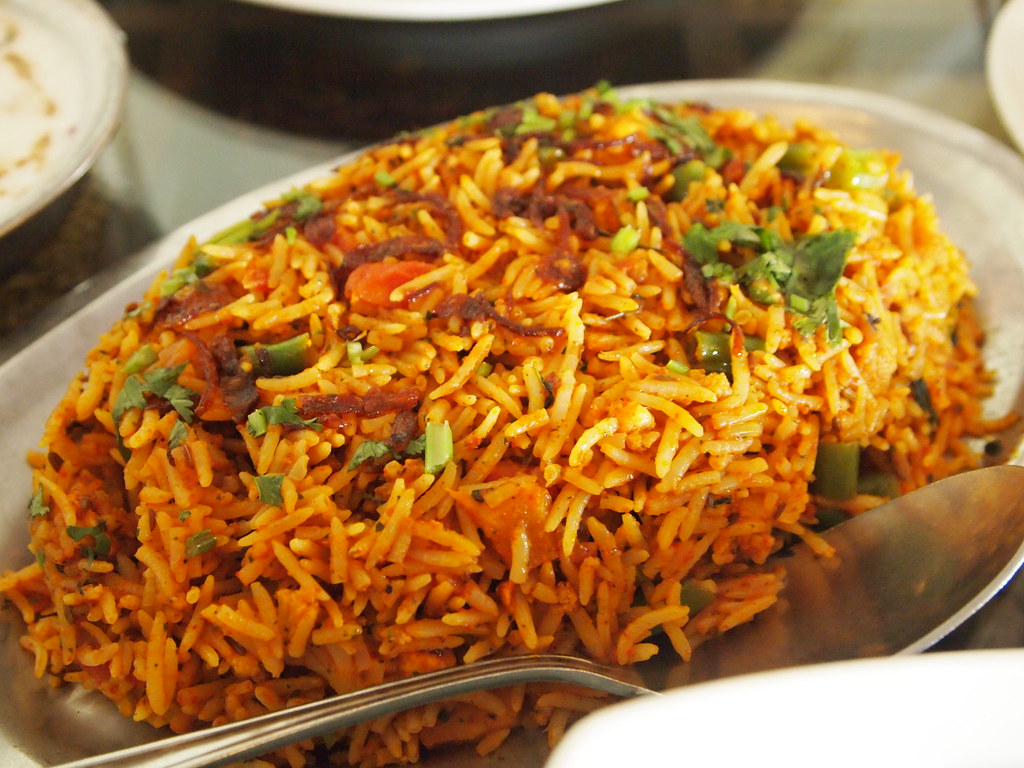 A world-renowned Indian Dish, Biryani takes time and practise but is worth every bit of the effort. This Vegetarian, Vegan, Gluten and Diary free version is the perfect spicy accompaniment to a sweet Love Delhi Gin cocktail and at just under 500 calories per portion, it's guilt-free too! Serves 4 – Cooking time – 30 minutes
Ingredients
Cumin Roasted Aubergine & Cauliflower

1 aubergine, cut into 1cm chunks

½ cauliflower, cut into small florets

1 tbsp cumin seeds

1 tsp salt

1 tbsp olive oil

1 onion, sliced

1 red pepper, sliced

3 cloves garlic

1 tsp chili flakes

2 tsp cumin seeds

2 tsp garam masala

2 tsp turmeric

300g basmati rice

400ml coconut milk

100g frozen peas

2 tbsp fresh coriander
Method
Preheat oven to 220C/425F/gas mark 7. Place all ingredients for the Cumin Roasted Aubergine & Cauliflower in a large oven tray, mix and roast for 20 minutes or until soft.
For the biryani, fry the oil, sliced onion and pepper gentle with the lid on until softened but not browned. Remove the lid, add the garlic, chilli and spices, and fry for 2 minutes.
Add the rice, coconut milk and 200ml of water, bringing to the boil. Put the lid on and simmer on a low heat for 7 minutes.
Add the peas, stir and replace the lid, and cook for a further 5 minutes until the rice is cooked to your preference. Add water if the sauce sticks before the rice is cooked.
Stir in the roasted aubergine, cauliflower and fresh coriander. Plate and serve with extra coriander sprinkled on top.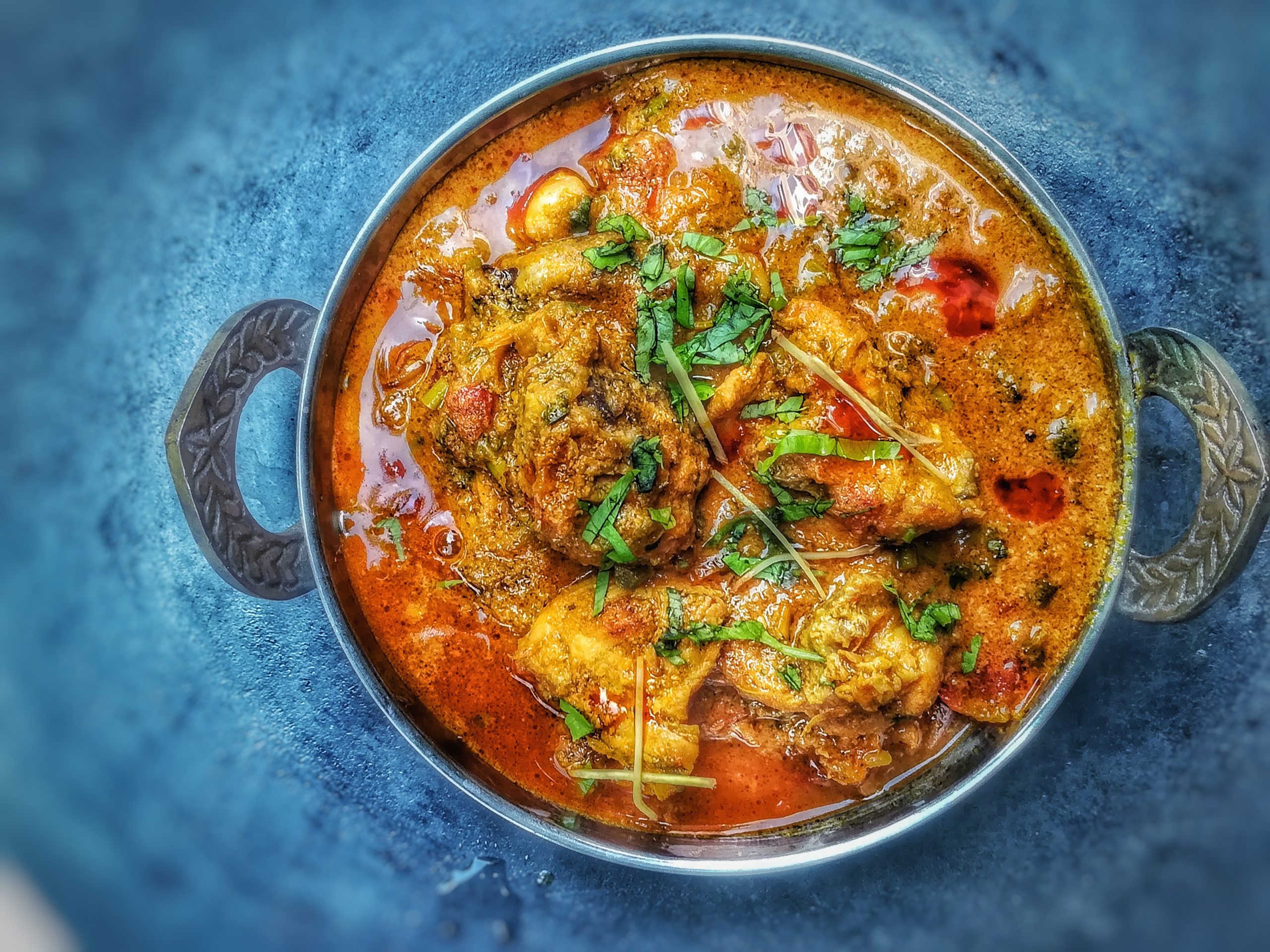 This Punjabi Lamb Curry is sure to warm you up from the inside. Packed full of spice, Love Delhi Gin is the perfect sweet accompaniment to this meaty classic and, using ingredients found in the pantry, it's a family favourite. Serves 4 – Cooking time – 60 minutes
Ingredients
4 tbsp rapeseed oil

1 tbsp cumin seeds

5 red onions, finely chopped

2 tsp salt

2 tbsp fresh ginger, minced

2 tbsp fresh garlic, minced

2 tsp cumin powder

2 tsp coriander powder

2 tsp turmeric

1 ½ tsp Kashmiri chilli powder

4 tbsp tomato puree

1kg boneless leg of lamb, cubed

5 tbsp chopped coriander

2 tsp garam masala
Method
In a pan, heat the rapeseed oil on a high heat. Add the cumin seeds, cooking for a few minutes, and then add the onions and salt. Fry for 8-10 minutes until caramelised. Add the ginger and garlic and cook for 2 minutes, stirring continuously so the ginger doesn't stick.
Reduce the heat to low and add cumin powder, coriander powder, Kashmiri chili powder and turmeric. Cook for 1 minute, stirring continuously so the spices don't burn.
Add tomato puree and cook for 1-2 minutes. Raise to a medium heat and add 250ml of hot water, boiling for 4-5 minutes until the mixture reduces. Add the lamb and cook for 5-7 minutes, stirring continuously.
Add 750ml of boiling water and stir thoroughly, mixing in any caramelised masala from the sides of the pan. Put the lid on and simmer on a medium/low heat for 30-35 minutes, stirring every 3-4 minutes.
Once the lamb is cooked, add extra water to preference. Stir in the coriander and garam masala and serve.
Love Delhi gin experience
Get to know the Love Delhi Gin Family. Follow us on Social Media
Receive news, promotion and discount.
TO FIND OUT MORE ABOUT RESPONSIBLE CONSUMPTION, VISIT DRINKAWARE.CO.UK